Welcome to the Victorious FANON Wiki!!!

This wiki is for Victorious fanfiction like creating characters and many more! You can create episodes and other articles that are about your favorite show.....VICTORiOUS!
Also visit the Truly Victorious Forum!
Featured Article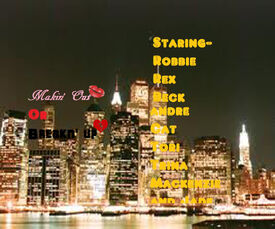 Makin' out or Breakin' up:The TV show! is a TV show made by Pickledudette It has 11 contestents-Tori Vega, Trina Vega, Jade West, Cat Valintine, Beck Oliver, Robbie Shapiro, Rex Powers, Andre Harris, and Mackenzie West (my made up character)-and what happens is they all live in one house together and viewers vote on who THEY think should go out and then the two contestents will go out on a date of the viewers vote. There is a marathon of new episodes on the last week of each season, where the contestants must defeat each other in multiple races and games and the three people with the lowest scores each episode are kicked out of the game. Then the viewers vote for who will come back to do one last challenge with the last person left, whoever wins gets a trophy and $100,000. All of them then come back the next season. Read more...
Featured Character
Penelope Rain
 is the cousin of Isabella Kayden.She first appears on Moving In. She is an Actress when she first come to HollyWood Arts but eventually she becomes a singer.She first sings in Christmas Spirit.She sings Her own cover Of Deck The Halls.It Can be heard under her picture.
Read More...
Featured Pet
Ariana "Olive" West is Jade West's pet yorkie. She got her as a secret santa present during Christmas. She is a purebread yorkie and Jade carries her to school in a jet black bag. (which is a little un-Jadeish.)
She will appear in the 2011 Christmas special. Read more...
Featured Fan-made Episode
Jade Gets Revenge : Tori and Jade perform on the same night at the Special prize jam and whoevers performance wins gets a date with tori's favorite celebrity. Tori sneaks into Jade's Locker and sabotages her lyrics.
Poll of the Month
Latest activity